Virtual Workshops for Groups
Art & Wellbeing
For your corporate team or private group to relieve stress, foster greater wellbeing, and increase effectiveness
These workshops support your team or group to:
Boost overall wellbeing, cultivate work-life balance, bond as a team or group, and learn transferrable skills
Release stress through science-backed strategies and practices that chip away at burnout
Increase time and task management skills to improve productivity
Prioritize with greater ease and confidence
Enhance creative thinking, self-confidence, and effective communication
Workshop topics are customizable to meet your group's specific needs, and also you can choose from a variety of previous popular topics.
I've led workshops for companies, non-profits, and community groups, like:
Private Mentorship for Individuals
Remagic Your Modern Life
For busy humans who are ready to beat burnout and re-awaken their magic
Private mentorship supports you to:
Ditch the to-do list overwhelm, busyness to burnout cycle, and old way of doing things
Shift your relationships to your time, energy, and emotions so you can rewrite old patterns, rewire unconscious beliefs, and manifest what you really really want
Understand your unique energy type, productivity style, and human design so you can work, create, relate, and play with ease
Connect with your higher self, inner child, shadow, and spirit guides so you can develop radical self-trust, remember your inner knowings, and rediscover your true callings
Create bite-sized self-care and sacred rituals that fuel your day and feed your soul
Co-create

your path

with an embodied mentor in a safe and compassionate space designed to empower your personal growth––wherever you are in your journey
On average, my clients double their energy and feel 1.5 times more confident managing their time and 1.5 times less stressed––leading to more promotions, new businesses, deeper self and spiritual connection, more satisfaction, discovered purpose, and greater peace with past experiences.
Private Intuitive Card Readings
Your Heroine's Journey
Overcome overwhelm and make more aligned decisions––via your intuition in these private and potent single sessions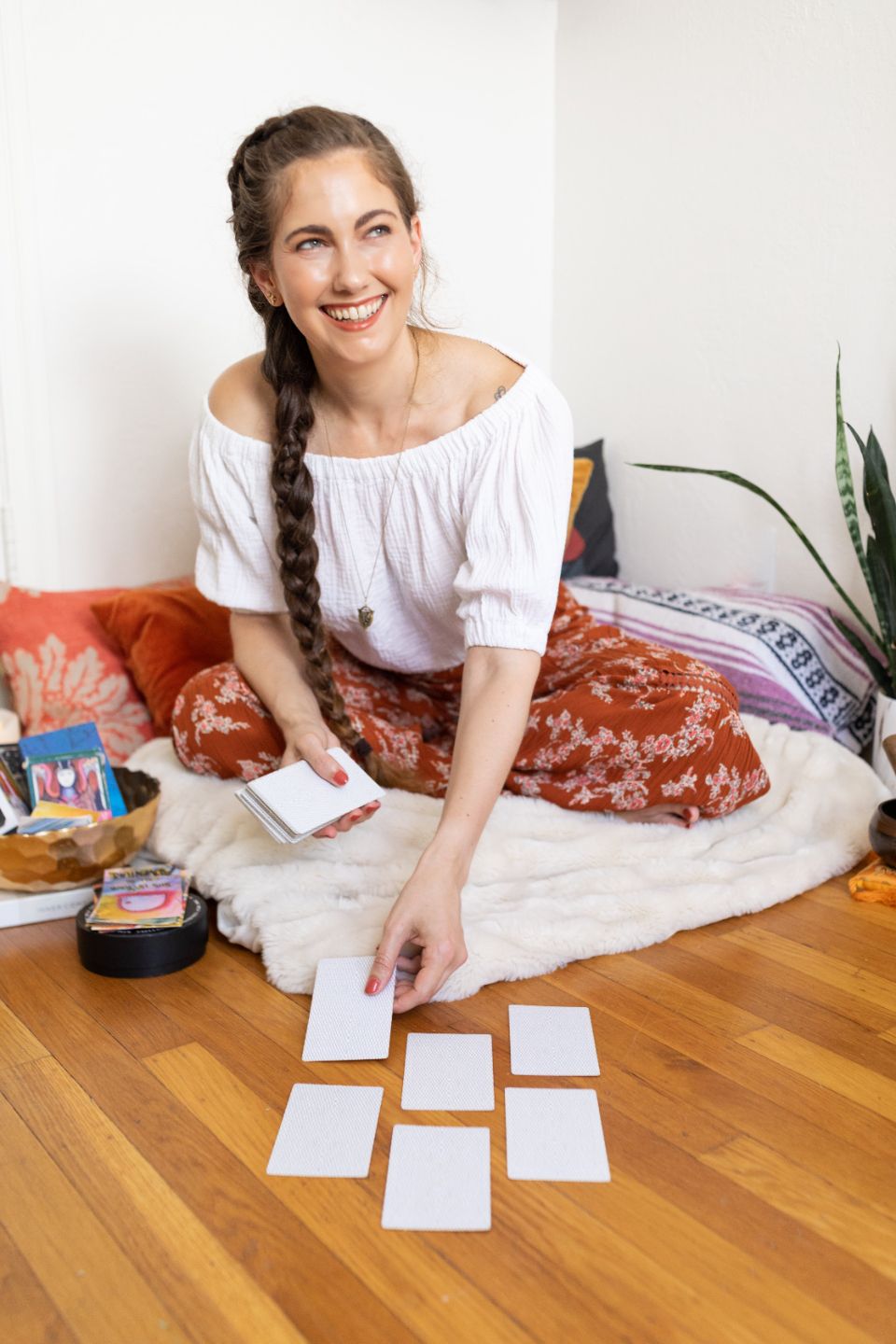 These intuitive card readings support you to:
Feel grounded and guided to welcome in a new chapter of your life

Release unconscious, energetic, and mindset blocks in a specific area of your life so you can move forward

Gain clarity on your next steps to take toward your goals

Make more aligned decisions with confidence and ease

Cultivate self-trust and work with your intuition on demand

Deepen your spiritual connection and card reading practice (and ditch the guidebook)
These sessions use my favorite Oracle deck (not Tarot), focus only on the present moment, and are designed to empower you––not predict or create self-limiting prophecies.
These sessions combine intuitive sensing, neuroscience, and depth psychology to help you uncover unconscious blocks and make more empowered decisions.
A La Carte Group Experience
Remagic your life––without the time commitment or adding to your to-do list
This powerful, one-hour virtual ceremony happens once a month on a drop-in basis to support you in reclaiming your magic. You'll journey in a circle of other seekers through a deeply personal practice so you can rediscover your Self.
This drop-in ceremony supports you to:
Deepen your connection to your Higher Self, inner child, ancestors, and Spirit Guides
Release stress, recover from burnout, and relax after a long day (PJs, pets, partners, and babies welcome!)
Enhance personal healing, self-connection, and self-trust
Activate your spiritual and intuitive gifts
Clarify your vision and positive intentions through a powerful, group card reading
Breathe deeply through a guided conscious connected breath practice
Dive deep within yourself through a guided shamanic journey meditation
This ceremony is the 60 minutes of "me time" you've been craving––and more.
Modern Mystic Mystery School
Live Group Program
Reclaim your magic amidst the mess of modern life in this 8-week deep-dive into the intuitive arts taught in the supportive container of sisterhood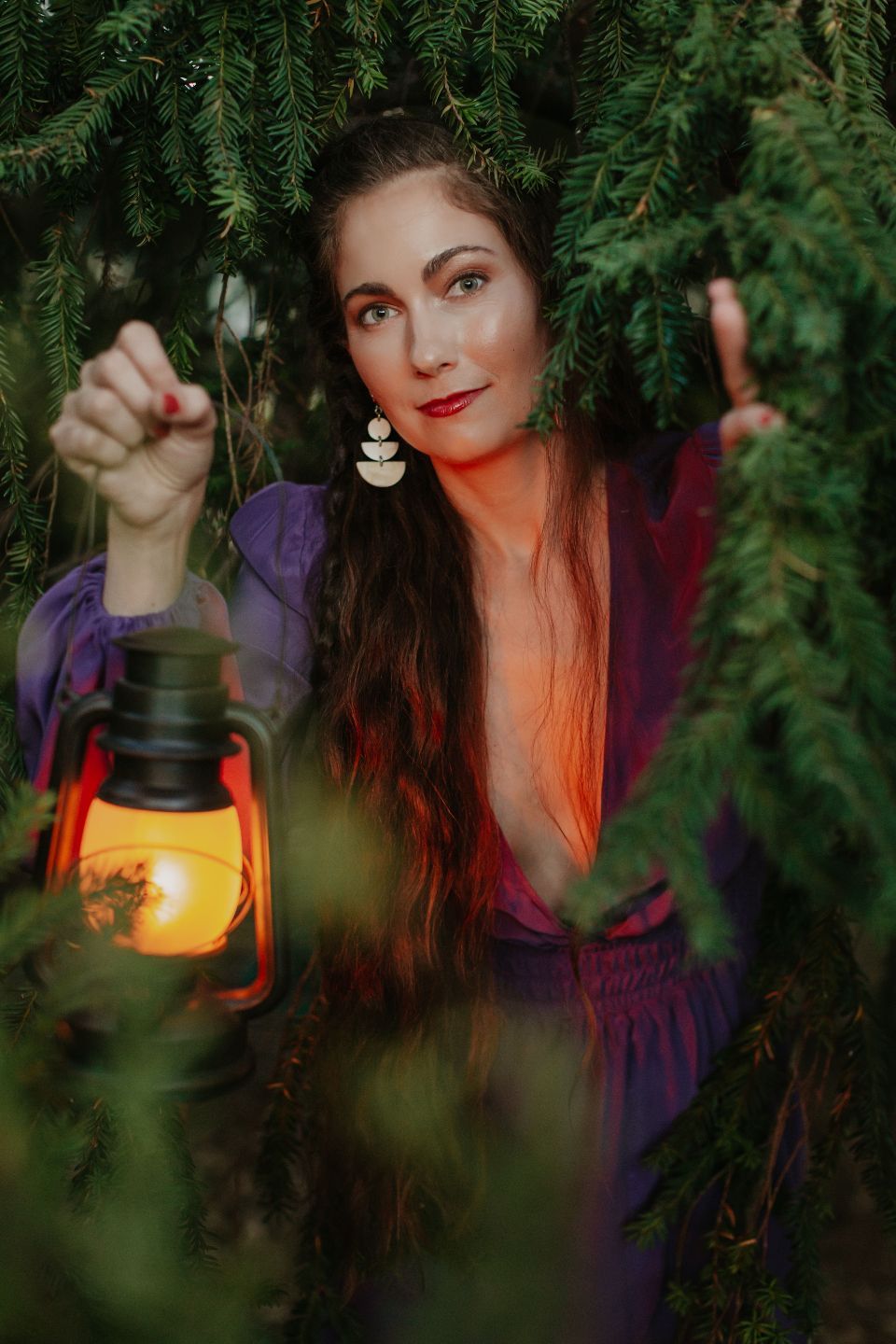 This mystery school guides you to:
Welcome more play, self-trust, magic, power, and wonder in your life––regardless of the endless to-dos, other people's expectations, or your responsibilities

Craft your own magical, spiritual, and sacred rituals in your unique messy, modern life

Clear and protect your energy from negative thoughts, draining dynamics, energetic vampires, underworld spirits, and entities

Reconnect with your soul, Higher Self, ancestors, and Spirit Guides through transformative ceremonies
Heal the witch wound and shine light on your gifts with the support of an embodied mentor, easy-to-follow curriculum, and conscious women* (LGBTQIA+ welcome!)
Sister, it's time to come out of the woodwork and choose yourself over everyone else's stuff.
"I am very impressed with Emily's intuitive hits, process, and wonderful healing energy. Emily was able to combine a scientific and spiritual approach to stress release which left me feeling truly renewed.
Her magical abilities range from on point card readings to guided meditations channeled from source that leave you feeling seen with a positive sense of where to go next in the evolution of your spirit and mind.
I highly recommended any service that Emily provides as she clearly has talent and gifts in the art of healing."
––Lindsay Stewart, School Founder, Science Educator & Shamanic Practitioner-in-Training
"Emily helped me refocus on understanding my energy and taught me the bite-sized tools to create emotional boundaries throughout the day. I now work with my natural energy, let go of the idea of the 2-hour morning routine, rest when I need to, and write at night.
I have so much more energy to sustain me now and can count on it to help me focus on what matters."
– Stephanie Zhong, Brand Strategist and Story Coach
"Basically, what Emily does is help you love yourself. She helps you focus on the things you're struggling with that you don't even think you're struggling with enough to fix them. Two months ago I would've been super frustrated with myself, and now I'm just not. She's magic."
–– Asha Jones, Fraud Analyst in FinTech
"I will sing Emily's praises to anybody who will listen. Emily helped me remember myself. I would tell anyone who's on the fence to just try to get quiet, listen and go with their intuition on it. But I think that even if they're scared that change isn't going to happen, or it feels like a big investment, just do it.
Do something for yourself because it's going to impact everyone around you. And it's worth it."
–– Lara Ho, Mom of Two
Free Download
The Intuitive To-Do List: 5-Step Guide to Overcome Overwhelm
Does your to-do list have you knotted into a serious ball of stress? Ditch to-do list doom and discover my 5-step process that will completely change how you feel about all those tasks you need, and want, to get done.
Ready? Enter your best personal email address below to get your free copy.