Do any of these sound like you?
You're tired of...
Wishing you could have a (or another) magical ritual you love 

 

Worrying you're too logical or not intuitive enough to read cards

Feeling like you have to see this psychic or that reader to get insight

Polling everyone else's opinions when you're trying to make a decision

 

Seeing your card deck(s) collect dust on your bookshelf

Trying to memorize card meanings or read millions of guidebooks

Getting lost in the noise of card reading how-to videos and advice

 

Not knowing how to apply what your readings say to your actual life
 I've experienced ALL of these feelings.
 Growing up...
I had a really hard time making decisions––I'd ask family, friends, and sometimes people I just met what I should do about this situation or that. I even applied early decision to college just to limit my options! 
For years, I wished I had a crystal ball to help me move through life… I didn't realize I was really searching for a deeper connection to myself and my intuition. 
In my search, I got readings from psychics and card readers predicting when I'd meet my next romantic partner or hit my next career milestone…only to feel more anxious and powerless than I did before. 
In my early twenties, I decided to figure out how to read cards on my own. Naturally, I got all the how-to books and tried to memorize meanings…only to get overwhelmed and give up. 
 Years later...
After my rock-bottom burnout and subsequent spiritual awakening about 8 years ago, I surrendered to my intuition and leaned on practices I learned from other magical traditions – like mediumship, shamanism, Reiki, and Jungian psychology.
This time, card reading felt easeful, intuitive, and full of flow. The more I practiced, the more insights I gained about my next career moves, my intuitive gifts, my relationships…you name it. Ultimately, card reading helped me deepen my self-understanding and recognize my own power. 
That's when I realized we've been going about card reading all wrong.  
Since then, I've done hundreds of readings in my unique intuitive-meets-psychological style for clients and loved ones, and now for the first time, I'm teaching my method in an accessible, self-paced online course.
Introducing...
Become Your Own Oracle
The Self-Paced Online Course to Master Intuitive Card Reading––Without Having to Memorize A Thing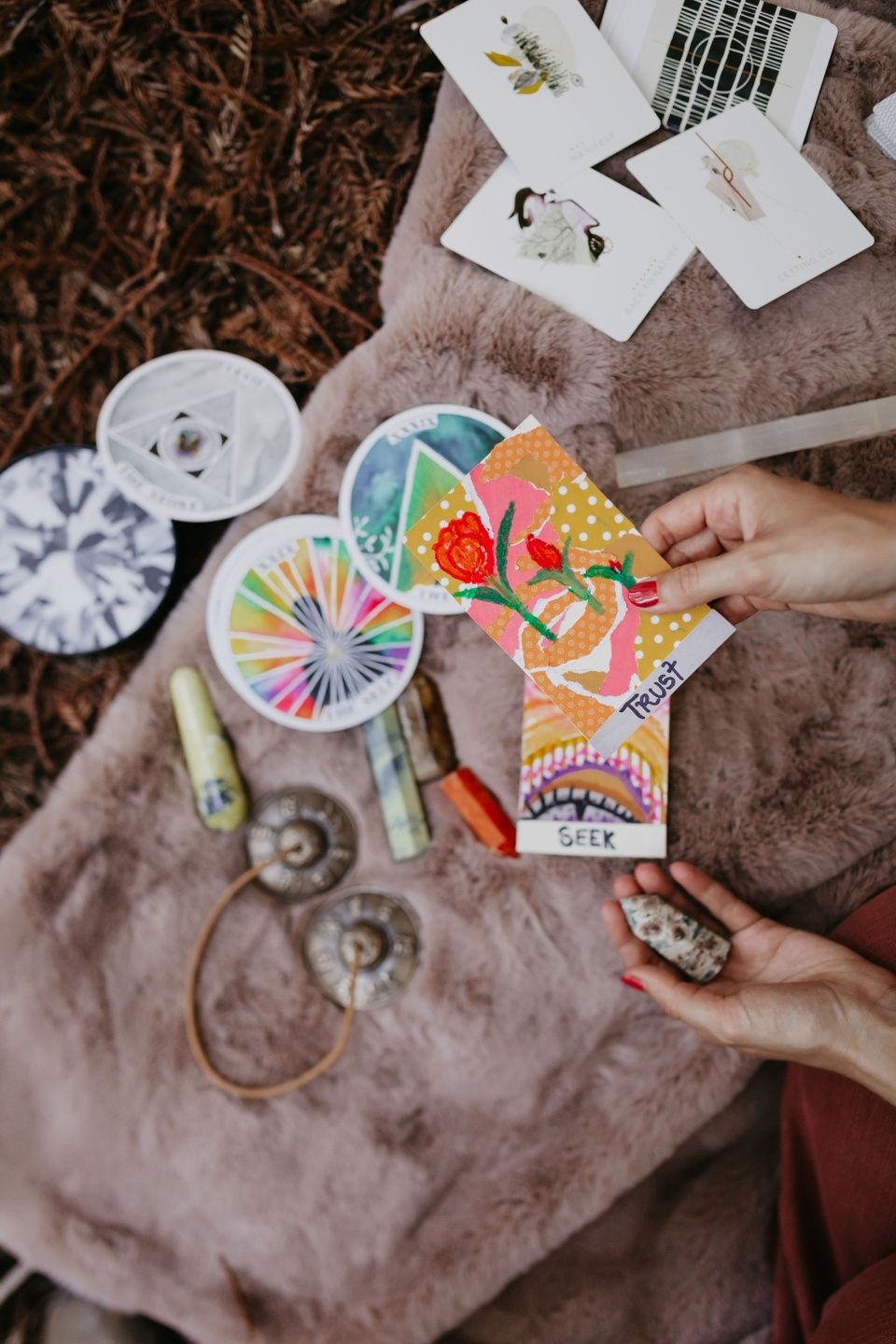 You'll get access to:
A step-by-step, repeatable process

 and magical ritual you can use to intuitively read ANY card deck (yep!) – without a guidebook or memorizing meanings

4 modules of bite-sized and bingeable videos (with captions) designed for busy humans that walk you through everything from connecting with your intuition to picking a deck to reading for others
"Do It With Me" immersive card reading practices to build your skill set, self-trust, and confidence
Accessible PDF handouts and journal prompts to take your practice deeper 
3 live "Q&Play" video calls with Emily to practice and get personal feedback (schedule TBD)
Email support to ask questions and get help throughout the course
Special 20% off discount to book a private reading with Emily
[BONUS] Live workshop (& replay) taught on Dec 17th so you can make your own abstract Oracle cards – no art skills required!
"Lifetime" access to the

 

course

 – as long as it exists on the internet and in my offerings, you'll have access
There's a whole new way of being waiting for you. 
By the end of this course, you'll: 
Feel empowered to read ANY card deck for yourself and others 

(and apply the wisdom!)

––without a guidebook or memorizing meanings
Trust yourself more and know how to leverage your intuitive gifts––even if you thought you didn't have any!
Feel confident making more aligned decisions in all areas of your life––without having to ask anyone else for their input (unless you want to)
Reconnect to the magic within you through a repeatable, doable, and powerful ritual you love
Feel more connected to your higher self, Spirit, your guides, and the Universe…so you always feel supported no matter what life throws your way
"I know I'm gifted and sensitive to certain elements and had put that on hold for years... With Emily's help, I feel more connected with my ancestors and spirit guides and see how powerful that connection is. If I could do this journey with Emily all over again, I would." 
–Shaquana Suggs, Professor, Author, and Digiteer
"I trust myself more and really recognize my intuition and gifts now. I'm able to connect to myself and spirit so much deeper. I especially loved connecting with my Higher Self and want to do that more––it's the key to my continued growth and expansion!"
–Elizabeth Lewis, Founder of Detroit Mom, Lansing Moms, and Retreat to Reclaim
"Basically, what Emily does is help you love yourself. She helps you focus on the things you're struggling with that you don't even think you're struggling with enough to fix them. Two months ago I would've been super frustrated with myself, and now I'm just not. She's magic."
–– Asha Jones, Fraud Analyst in FinTech
Let's Look Inside the Course...
5 Modules of Magic:
Each week starting November 13th, you'll get access to a module of bite-sized, bingeable videos designed to take you through each step toward mastery. 
Module 1:
Why Read Cards & How to Pick a Deck
Includes:
What is intuitive card reading and how it can positively impact your life

Tarot vs. Oracle: what you need to know

Guiding principles for intuitive card reading (psst––ditch the guidebook and here's why)

How to pick the right deck for you

Bonus: PDF shopping guide of my favorite Oracle card decks
Module 2:
Getting to Know Your Oracle Card Deck 
Includes:
Do It With Me Drill: Meet Your Deck Meditation

How to discover and use your primary intuitive styles to unlock insights and make decisions

Do It With Me Drill: how to shuffle and pick cards

How to leverage archetypes in readings and work with your unconscious mind

Do It With Me Drill: Daily card pull to build a relationship with your deck

How to clear your deck––myths and tips
Module 3:
The Art of Reading Cards
Includes:
How to build a card reading ritual you love

Do It With Me Drill: Grounding meditation

How to ask questions for powerful readings

Downloadable question formula worksheet

Do It With Me Drill: Card Perspective Shift Game

How to use your intuition to interpret cards

Do It With Me Drill: Enter the world of the card meditation and interpretive practice

How to turn readings into aligned actions

How to track patterns in your readings
Module 4:
Leveling Up Your Practice
Includes:
Card reading spreads 101

PDF guide with my favorite card spreads

How to make your own card spreads

How to leverage storytelling to deepen your interpretations and read like a pro

Mix and match: how to read with multiple decks

How to ethically read into the future –without creating self-fulfilling prophecies

How to read for others and reader ethics
Bonus Module 5:
Card Reading Playtime
Includes:
LIVE workshop on December 17th: how to make your own intuitive art Oracle cards to gain deeper wisdom––no advanced art skills required! R

eplay recording available for all students

How to bring your kids in on the fun, too!
Plus Live Support:
3 Live "Q&Play" Calls with Emily + Email Support
Includes:
3 LIVE "Q&Play" 60-minute calls with Emily to practice your new skills, get personalized feedback, ask questions, and integrate this magical ritual into your life

Calls are currently scheduled in 2024 on Sundays, January 28th, February 25th, and March 24th 

At any time, students may email Emily to ask questions about their card reading practice and the course material
With the teachings in this course, you'll go…
 From this...
Wishing you had clarity or maybe even a roadmap to make decisions in your life

Wondering how you can access your intuition without relying on someone else

Feeling guilty about the unused Oracle cards taking up space in your closet 

Hearing about magical practices like card reading, but consistency has always been hard for you

Struggling to ditch the guidebook or apply your readings to your actual life
 To  this...
Having a repeatable, doable process to make aligned decisions – even in times of uncertainty and stress

Feeling connected to your unconscious mind, intuition, higher self, guides, Spirit, and/or the universe

Loving your magical card reading ritual that helps you feel grounded, a little witchy, and very empowered

Sharing your intuitive gifts with loved ones (and maybe even clients!) by giving readings of your own

Resonating with the insights your readings provide about your most complex life challenges
It's time to reclaim your intuitive power.
"Emily has a true gift in card reading. The accuracy of her reading stunned me. I found myself crying halfway through! She was able to verbalize so many questions I had been asking myself deep within, and provide clear guidance toward a better understanding. I still reflect on the explanations she gave and feel her reading helping me navigate through uncertainty. I cannot recommend her readings highly enough!"
- Emily Listmann, Mindfulness Educator of Mindful & Well Education
"I attended Emily's mini Art (& Science!) of Intuitive Card Reading Workshop, and it was a perfect blend of basics and going more in-depth. I really enjoyed the space to not only learn more about card reading and how to view it as a choose-your-own adventure story, but also see an example reading and create our own cards!"
- Hannah Strenger, Queer Guide
"Though I was initially skeptical as someone who was never into card reading, I decided to try something new as I really liked Emily's energy. The experience was not only a lot of fun but also very insightful. The process pointed out numerous things that were true about my personality, and, in fact, where I was at my life in that moment. In so doing, this exercise offered an opportunity to reflect on how I might better navigate important upcoming decisions. I would certainly work with Emily again."
- Adrian Baker, Yoga and Meditation Teacher
When you join the Become Your Own Oracle Course...
 Your Energy Exchange:
First module releases November 13th. Subsequent modules drop every 1-2 following weeks until all 5 modules are released.
Feel confident with my 7-Day Money-Back Guarantee:
I'm 100% confident in this transformative process and the magic you can create by showing up for yourself in this program. I want you to feel that way too.  
If you decide Become Your Own Oracle is not the right fit for any reason and would like to exit the program before the second module releases, email me at [email protected]  by November 19th, and I'll give you a full refund. 
"I will sing Emily's praises to anybody who will listen. Emily helped me remember myself. I would tell anyone who's on the fence to just try to get quiet, listen and go with their intuition on it. But I think that even if they're scared that change isn't going to happen, or it feels like a big investment, just do it. Do something for yourself because it's going to impact everyone around you. And it's worth it."
–– Lara Ho, Mom of Two 
"I have always been very skeptical of card readings and not a fan of Tarot. Emily's intuitive readings, on the other hand, make me feel safe and not like I'm tapping into something dark or ominous.  
I really appreciate the spot-on feedback I've gotten from every reading. It's exciting and always validates my feelings and emotions both in the moment and longer term. It also helps me break those feelings down and allows me to learn more about myself. It's so comforting and has validated my intuition." 
 – Stephanie Pérez, Program Specialist in the Tech Industry
"Before my Intuitive Reading with Emily, I was feeling stuck and burnt out. There were so many different directions I could go professionally, but none were feeling particularly aligned with my personal goals - and I felt like I never had enough time to just sit and breathe and sink into this deeper issue.
When I booked a reading with Emily, I had an immediate download about an hour later of a personal creative project that I am now obsessed with - and that was BEFORE our reading even happened (Emily - are you magic?!)
During the reading, Emily kicks off the session with a relaxing meditation and then begins to pull the cards. Everything she said resonated so deeply, and stirred up some underlying issues and some new & exciting opportunities that felt much more aligned for my business and life goals.
I left our session feeling like I had a giant exhale - and spent the rest of day feeling less stressed with more ease and clarity. Highly recommend booking a reading with Emily - it's worth 10x the price!"
– Melissa Cassera, Professional Screenwriter & Publicity Strategist
What Card Reading Is...
and Is Not
Oracle Card Reading is NOT About…
Looking into the future to predict whether something will or won't happen 

G

iving your power away to some occult object or outside expert

G

etting super "witchy"... unless you want to of course :)
Oracle Card Reading IS About…
Bringing forward how you feel now and what dynamics, energies, beliefs, and feelings are under the surface in any situation
Tapping into your own intuition to help you make informed and aligned decisions
Remembering who you truly are and what your purpose is in this life 
Creating a ritual to help you feel grounded, connected, and divinely supported
"I just did a Heroine's Journey reading with Emily! She uses Oracle cards and structures it like a story. It was such a cool experience and kind of like opening your eyes of where you're at right now and the things that you're working through. She's really married her interests in science and spirituality through this session! And when I had her on my podcast, we talked about the science behind the spiritual practices that she incorporates in her work, and how she uses card reading and self-care to unlock our intuition, our confidence, and our resilience."
–– Taylor Grewe, Human Design Reader & Content Coach
"I was so honored to have the incredible Emily host a workshop for our meet-up. She was such a joy to work with––she truly provided transformational information and an enjoyable experience for attendees. Emily knows her subject matter in and out, holds so much empathy, and I would say displays so much courage and leadership in what and how she brings her gifts to the world. Emily was able to give attendees tactical, tangible tools they can use over and over again by simply tapping deeper into themselves. She was able to take something that feels extremely complex, and break it down in the most simple, effective, and not to mention, intentional way."
– Grace Blacksea, CEO of Quench Collective
 Hi, I'm Emily Schickli
Emily empowers busy humans to reclaim their time, energy, and sense of magic through personal coaching, online courses, corporate workshops, sacred ceremonies, and her published book, From Busyness to Magic.
She's led art and mindfulness workshops for companies, nonprofits, and entrepreneur masterminds like Google, Microsoft, Course Hero, Uber, Zip HQ, East West Bookshop, Allies for Every Child, Ash McDonald, Quench Collective, Peacebank Yoga, and more.
 My training...
Emily is a triple-certified life coach, certified yoga and meditation teacher (RYT200), Reiki Master Teacher in the Usui Method, Shamanic Practitioner, and NeuroLinguistic Programming (NLP), T.I.M.E., EFT, and Hypnosis Practitioner with a Masters from the University of Chicago.
When she's not working, she's making art and magic in her garden in the SF Bay Area – where she lives with her partner of 9 years, 50+ houseplants, and her Havanese puppy, Mac.
Frequently Asked Questions
I'm not intuitive. Can I still take this course?
I've never tried card reading before. Is this right for me?
Do I have to have a deck before I start this course?
What's the difference between Oracle and Tarot cards?
Will you be teaching about Tarot?
I'm not new to card reading. Should I still take this course?
I'm not new to magical practices, will this course still resonate?
How long do I have access to this course?
I tend to sign up for things and forget to use them. What accountability is in this course?
I'm an INFJ, Taurus sun sign, and Manifesting Generator...will this work for me?
What do I get when I sign up for this course?
I have another question, where can I ask it?
"If you're considering doing this for yourself, of investing in yourself, know that it comes back to you, you don't have to earn it, you just deserve to take time for yourself. Take time to build that awareness and invest in yourself––it helps you become the person you want to be."
– Clara Vaknin, User Researcher in the tech industry
"I got the most in all areas of my life from working with Emily––even more than working with my therapist and nutritionist. It was the best investment I could've given myself. So good, that I signed up for more!"
– Caline Raab, Sr. Manager, Learning & Development in the cosmetic industry
Reclaim Your Intuitive Power
First module releases November 13th. Subsequent modules release every 1-2 following weeks until all 5 modules have been released.
Disclaimer:
I am not a medical professional, and therefore, I do not diagnose illness, disease, or medical disorders. My counsel and this program's curriculum should never replace the advice of your medical physician or mental health professional.
I am a spiritual mentor, Certified Life and Nutrition Coach from ITN, Reiki Master in the Usui Method, registered yoga teacher with Yoga Alliance, and educator with a M.A. in English and Curriculum Design from the University of Chicago. As a result, I offer life, health, spirituality, and wellness suggestions in accordance with my own experiences, intuitive abilities, and training. You are responsible for actions that you do in accordance with or against any advice given by me. Neither Mind Body Dharma, LLC nor Emily Schickli are liable in any way for any issues that may arise before, during or after a coaching program, session, retreat, class, or workshop.
Commitment:
I am committed to offering you, to the best of my ability, tools and practices that you can use to further your personal development and cultivate a greater sense of well-being.
I act in accordance with the Yoga Alliance compliance and integrity statutes at all times, and never seek to cause harm in any way.
Mind Body Dharma is an anti-racism organization and does not discriminate based on race, ethnicity, background, sexual orientation, or gender preferences. So while this program is designed for women-identifying folks, all LGBTQIA+ individuals are welcome and encouraged to join.
Photography by Meghan Smolka