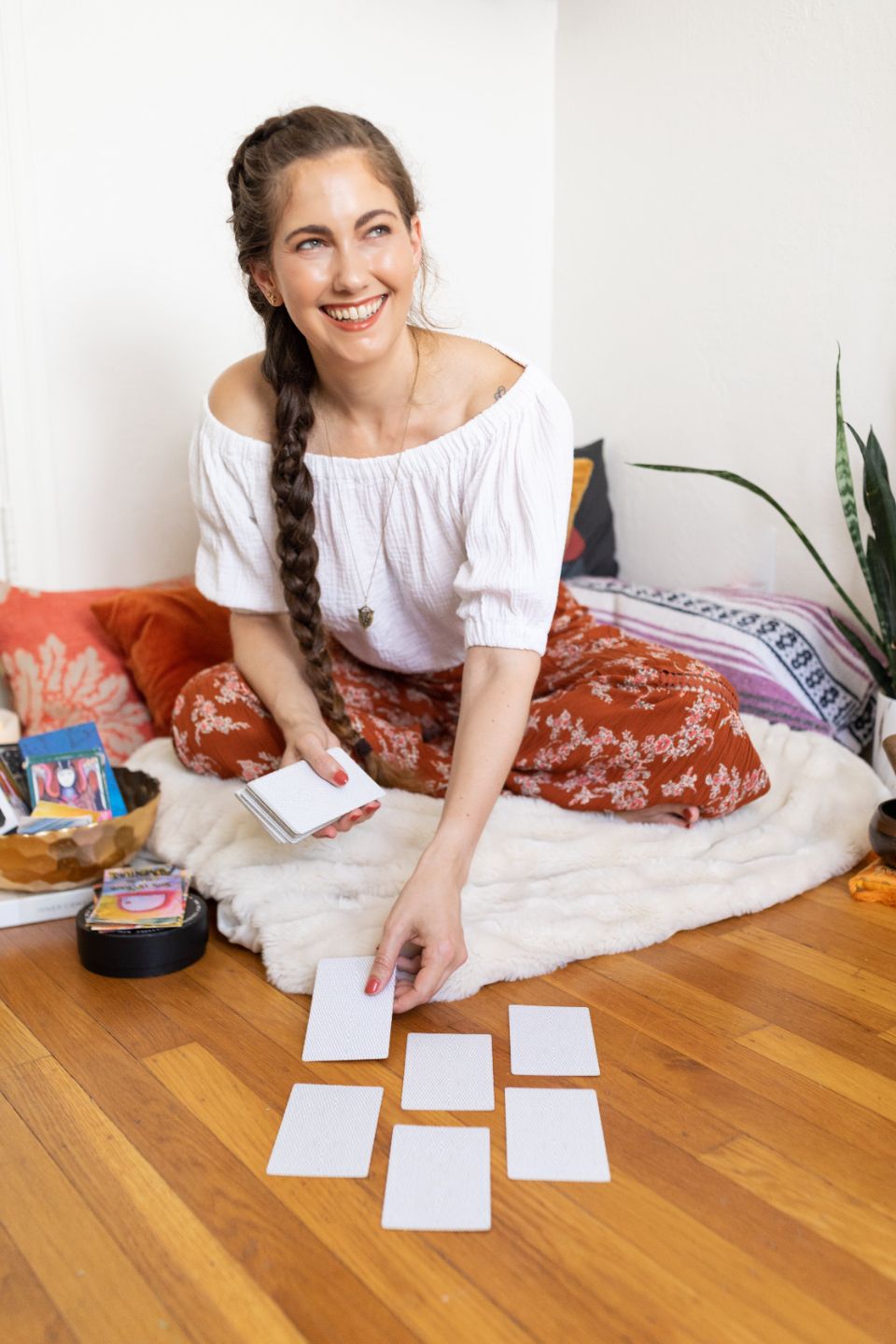 SAY GOODBYE TO OVERWHELM
Make Aligned Decisions––
with Your Intuition

Modern life is messy.
And unfortunately that mess hasn't left much room for the magic inside of you.
You KNOW you need to get out of analysis paralysis, but you're exhausted by the mental spiral of all the things you could do.
You just want clarity and maybe a roadmap...
You have a feeling your intuition has the answer––but you're not sure how to access it.
Let's change that.
Yes! I'm Ready for Clarity
Become Your Own Heroine or Hero
We're all on a journey––whether that's with our health, relationships, career, life purpose, money, or personal growth.
And like the fairy tale heroes and heroines we grew up hearing about, we run into obstacles along the way that feel impossible, confusing, and overwhelming.
We start to doubt ourselves and struggle to make decisions.
Hello, analysis paralysis.
We wind up feeling like a side character rather than the star of our own story.
I learned this lesson all too well 8 years ago when I hit rock-bottom burnout while working 14-hour days at a tech company.
It wasn't until I got clarity on what was happening in my unconscious mind––what research shows drives 95% of human behavior––that everything changed.
I learned I had picked up on a deep need to people-please and overwork, despite my body's protests.
I was unconsciously repeating old patterns and choices I learned in childhood, and they were holding me back from how I wanted to show up: balanced, empowered, and honoring my true self.
And while a lot went into my healing process, the first pivotal step was reawakening my inner knowing and inner voice.
In my journey, I found that using Oracle cards was the fastest, and importantly, the most fun way to cultivate deeper self-awareness and regain access to and rebuild trust with my intuition.
And I'd love to show you how you can leverage this tool to gain the clarity you seek and insight you need to get unstuck in your journey in a powerful private card reading adventure.
Aren't you ready to take your power back?
Introducing...
Your Heroine / Hero's Journey:
An Intuitive Card Reading Adventure
You'll Gain Massive Clarity with: 
✓ 60-minute private intuitive card reading adventure and coaching session on how you can access your intuition on demand to make better decisions. You'll be guided through a unique, present-focused Oracle card reading that brings together science, spirit, and storytelling in a 7-card spread. You'll also receive personalized coaching to help you uncover what's keeping you stuck in a specific area of your life and how to overcome it. Plus, you'll have fun interpreting art! (VALUE: $200)
✓ Personalized bite-sized action plan combining the power of art, habit psychology, and intuition to guide you out of overwhelm and into confidence. (VALUE: $47)
✓ Downloadable recording of your session so you can always revisit the wisdom you gain as often as you need 
Energy Exchange: $175 
"I have always been very skeptical of card readings and not a fan of Tarot. Emily's intuitive readings, on the other hand, make me feel safe and not like I'm tapping into something dark or ominous.
I really appreciate the spot-on feedback I've gotten from every reading. It's exciting and always validates my feelings and emotions both in the moment and longer term. It also helps me break those feelings down and allows me to learn more about myself. It's so comforting to say the least.
There is one card in particular that is spot on ME. I won't say what that is, but it has come up often and serves as a reminder of a value and goal that resonates so deep within me. It's always exciting to see that consistency in my readings. It has validated my intuition, and I've gotten helpful feedback from Emily."
– Stephanie Pérez, Program Specialist in the Tech Industry
Go from Confusion to Clarity in 3 Steps
Your Adventure: Part I
I'll teach you more about how intuition works and help you identify your unique intuitive style––as in, how your intuition shows up for you––and give you some tips on how to continue to cultivate a deeper relationship with it even after the session.
After that, I'll guide you into a grounding meditation to help you relax and regulate your nervous system since we can't access our intuition when we're stressed.
Your Adventure: Part II
Next, I'll help you pinpoint a specific situation or area of your life (health, wealth, relationships, personal growth) in which you're seeking clarity and a breakthrough.
Using my favorite deck of Oracle (not Tarot) cards and my own intuition and expertise in symbolism and storytelling, I'll guide you through my signature Heroine/Hero's Journey 7-Card Spread.
I'll also support you to interpret the cards based on what your intuition notices first. You can think of it as similar to the "inkblot test" from depth psychology.
Your Adventure: Part III
We always focus on the present moment (no future or fortune-telling here!) so you feel more empowered and don't create self-fulfilling prophecies.
I also leverage my expertise as a spiritual mentor and Certified Life Coach to co-create a practical action plan with you and habit psychology in mind to integrate what comes up and help you feel empowered to create doable, positive shifts in your life.
Where Spirit Meets Science



Why We Get Stuck:
We make decisions based on our emotions and unconscious beliefs about the world––not our logic and reasoning.
Scientists like Dr. Bruce Lipton estimate that our unconscious desires and beliefs determine 95% of human behavior.
While your conscious self (your thinking mind reading this now) believes it's possible to achieve your personal goals, your unconscious mind (the part of you that makes decisions) has picked up a different understanding of the world based on what you've seen and experienced growing up.
It's those beliefs that are tripping you up as you race headlong toward your goals.
How We Get Unstuck:
If we hope to make positive changes in our life, we need to make what's unconscious conscious.
Essentially, get clear on exactly where and why you're getting blocked––and that's where I can help.
Through this intuitive card adventure that merges psychology and neuroscience with energetics and intuition, I'll help you get clear on what is tripping you up deep-down and empower you by translating it into doable steps to reach your goals.
...all the while having fun in the process through the power of art and storytelling.
The result? You'll leave the session with a deep exhale and a plan to move forward.
Is this fortune telling? Is it Tarot? How "woo" is it?
What do we do during a session?
How do I give this session to a friend?
"Before my Intuitive Reading with Emily, I was feeling stuck and burnt out. There were so many different directions I could go professionally, but none were feeling particularly aligned with my personal goals - and I felt like I never had enough time to just sit and breathe and sink into this deeper issue.
When I booked a reading with Emily, I had an immediate download about an hour later of a personal creative project that I am now obsessed with - and that was BEFORE our reading even happened (Emily - are you magic?!)
During the reading, Emily kicks off the session with a relaxing meditation and then begins to pull the cards. Everything she said resonated so deeply, and stirred up some underlying issues and some new & exciting opportunities that felt much more aligned for my business and life goals.
I left our session feeling like I had a giant exhale - and spent the rest of day feeling less stressed with more ease and clarity. Highly recommend booking a reading with Emily - it's worth 10x the price!"
– Melissa Cassera, Professional Screenwriter & Publicity Strategist
"I just did a Heroine's Journey reading with Emily! She uses Oracle cards and structures it like a story. It was such a cool experience and kind of like opening your eyes of where you're at right now and the things that you're working through. She's really married her interests in science and spirituality through this session! And when I had her on my podcast, we talked about the science behind the spiritual practices that she incorporates in her work, and how she uses card reading and self-care to unlock our intuition, our confidence, and our resilience."
–– Taylor Grewe, Human Design Reader & Content Coach
"Emily has a true gift in card reading. The accuracy of her reading stunned me. I found myself crying halfway through! She was able to verbalize so many questions I had been asking myself deep within, and provide clear guidance toward a better understanding. I still reflect on the explanations she gave and feel her reading helping me navigate through uncertainty. I cannot recommend her readings highly enough!"
–– Emily Listmann, Founder of Mindful & Well Education
"The Heroine's Journey card reading with Emily was a completely new but eye-opening experience for me. I've never done any sort of "reading" activity before and wasn't sure when she suggested it in our first session. But I quickly found myself asking "did I tell her that about my colleagues?" "how did she know I was feeling that way?" and other questions that show how deep this practice is. It went right to the heart of what I most needed out of working with Emily. Each card reading since has reaffirmed the power and magic and helped illuminate the best past forward for me!"
– Katherine France, Dentist Educator
"The Heroine's Journey Intuitive Card Reading was so on point with where I was at, and in hindsight, so true of where I was headed. Emily's thorough understanding of the deck, mixed with a strong and clear connection to her intuition, allowed her to personalize the reading for me and explain it in a way that was relevant. It awakened my soul!"
– Caline Raab, Sr. Manager, Learning & Development in the Cosmetic Industry
"During the reading, Emily helped me realize the significance my self-care practices have on not only my personal growth, but business growth as well. She did not know the question I wanted to ask during the session, and all the cards she pulled were spot on with the question I had in my mind! Just shows that I really needed those cards to guide me in the right direction.
I highly recommend her card readings if you're looking for an unseen path. During a time of confusion on the path I'm on, this card reading was a perfect way to show some unseen paths that I was not aware of. It was also the perfect jumpstart to activating my self-care practices again. Her knowledge of the cards and approach to the reading is unique and welcoming. This was my first reading ever and I had an excellent, eye-opening experience. Thanks Emily!"
–– Madison Warner, Wellness & Life Coach, Creator of Coffee Dates with Maddie
"I finally found the time to do the Heroine's journey card reading, and it was so eerie! I started a personal journey this past year and the first three cards knew all about it. The next four cards offered a glimmer into how the journey may end - the reading brought up lots of stuff lurking in the shadows.
Emily and I had a great convo and now I have more clarity and less overwhelm about which step to take next. Breaking down everything into bite-size pieces helped clarify what assumptions I had been making and decide where I really wanted my energy to go.
I hope to start having readings regularly as part of my self-care routine."
–– Tiffany Barber, Email Marketing Manager at Course Hero, Inc.
"I wasn't being gentle with myself. I was letting myself get overwhelmed and then would get frustrated with myself for being overwhelmed, and then mad that I was frustrated––and it was just like this never ending cycle of badgering myself.
I honestly don't even know how to verbalize the impact of working with Emily. Two months ago, I would have been super frustrated with myself for doing something and now I'm just not.
Basically, what Emily does is help you love yourself. She helps you focus on the things you're struggling with that you don't even think you're struggling with enough to fix them. She's magic."
– Asha Jones, Fraud Analyst in FinTech
"I think Emily's Intuitive Card Readings help solidify a lot of things. It's like, I know that they're just cards, but they function like tools. They help bring things to light that are further back in your mind that you may not be aware of, like a lever. And they tell a story. Individually, they're little nuggets, but they all work together as a whole. They are also fun! They don't feel like work even though they're a tool for self-awareness and growth."
– Cindy Fuhrman, Direct Marketing Manager in the Tech Industry
"The biggest value Mind Body Dharma provided me was the ability to break down problems and goals into manageable, understandable, and achievable "tiny habits."
Instead of getting trapped in the anxiety of analysis and action, I now feel confident in my ability to make true progress."
– Lindsay Alford, Program Manager at Google & Executive Director of Techapella.org
"When I met Emily, I was at a point where I needed guidance on how I could craft a routine to bring calm into my day-to-day life.
What I got was a lot more…and enabled me to create a life that helped me feel fulfilled, happy, and self-directed while listening to that inner voice."
– Karina, Strategy & Program Manager in tech